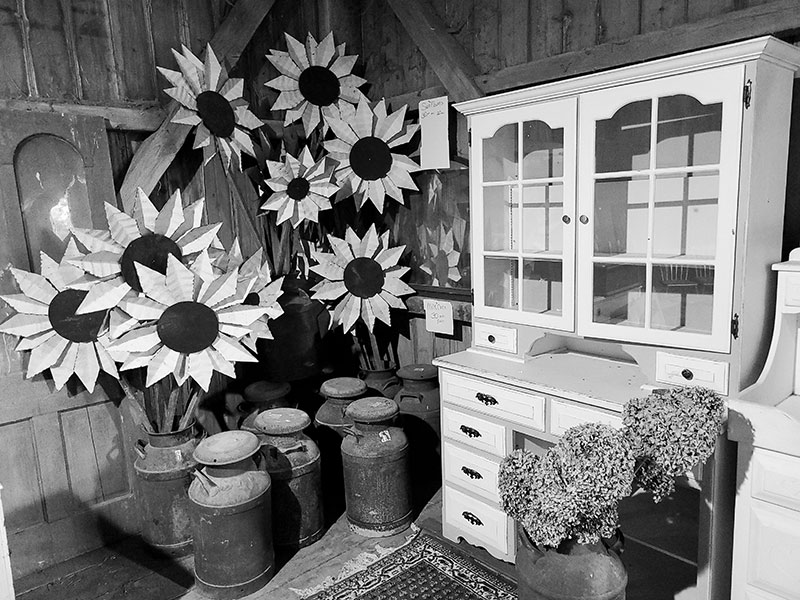 It's that time of year again! We are excited to announce our HUGE Memorial Day Weekend Barn Sale! Antiques, Collectibles, Hand Crafts, Artwork, Furniture, Glass Ware, Tin Ware, Kitchen Ware, Garden Decor, Vintage Clothing, Baked Goods! Our Famous Chicken BBQ will be available on Saturday
Our Famous Chicken BBQ will be available.
Our Famous Chicken BBQ will be available.
By Monday Mary will be more than willing to negotiate.
There is plenty of builds, barns and outdoor areas to explore. You have to be sure to find unique treasures.  Dealers are welcome to come to the event.
Located in the heart of Lancaster County
Mary's Gift Shop is owned by horse and buggy Mennonite, Mary Martin, and her husband Paul H. Martin. Mary comes from a large family of nine siblings – 7 sisters and 2 brothers. She grew up on a farm in the heart of Pennsylvania Dutch Country (Lancaster County, PA) with her loving parents, Ben F. Martin and Mary (Hoover) Martin.
Mary's father Ben was the founder of a business that made furniture of recycled lumber, namely old barn board. What started as a hobby grew into a full time business, and his furniture and woodworking was highly sought after by collectors. Mary's mother painted old dowry chests in the traditional "Old Dutch Painting" style, and her sister Nora followed in their mother's footsteps, earning her living painting in the Pennsylvania Dutch Folk Art style.
Mary watched her mother and sister intently while growing up, and learned to paint from them. Her paintings on wood and canvas are signed "M. Hoover" and are beautiful examples of what would be considered American and Amish Folk Art.
Mary's Gift Shop began in a small room in her home, but quickly grew so large that she and her husband built the "Shop" building on their farm. The shop is loaded with antiques, public auction finds, American folk art, authentic Amish and Mennonite hand crafts and furniture – all kinds of treasures at a reasonable price.
737, North Railroad Avenue
New Holland, PA 17557
(717) 354-7755
Monday – Saturday
8am to 6pm
CLOSED SUNDAYS